Legal Notice
All files released or distributed by Tsukihimates are only patches. In order to make use of these patches, you must legally own a copy of the base game. Tsukihimates does not condone or encourage piracy of any kind. By downloading any Tsukihimates-provided patches, you assert that you have purchased a copy of Tsukihime -A Piece of Blue Glass Moon-.
Tsukihime -A piece of blue glass moon- may be purchased online from Nintendo or physically through various different resellers.
All patches provided by Tsukihimates are provided 'as-is', without warranty of any kind, express or implied, including but not limited to the warranties of merchantability, fitness for a particular purpose, and noninfringement. In no event shall the authors or copyright holders be liable for any claim, damages or other liability, whether in action of contract, tort or otherwise, arising from, out of, or in connection with the software or the use or other dealings in the software.
By downloading or using any patches provided by Tsukihimates, you assert that you have read and accept this message.
Latest patch: 2022.07.16 (1f7e670a)
Size: 1.5GB
MD5Sum: fa0ca67852f3e0f90bdbbdffd1e0ae9d

Release notes
This patch contains a full translation for the Arcueid route.
Days one through five have been re-edited for flow and more consistent voice.
The game engine now supports extended font effects such as italics.
If you spot any typos or other issues, please take a minute to report them so that they can be fixed.
Previous Patches
This patch is superceded by the upcoming Half Moon patch. We do not recommend reading this patch at this time.
Size: 1.1GB
MD5Sum: 111dc2e743fca9f591e41c26800a9f66

Release notes
Patch format fixed to work directly on switch hardware
Screenshots and recording are enabled in-game
This patch only contains Arcueid route days 1 through 5. Further patches will be released in due time.
This patch is superceded by the upcoming Half Moon patch. We do not recommend reading this patch at this time.
Size: 1.1GB
MD5Sum: 5b28f44d1fa7e464b6048774ba8a3ad2
Release notes
Initial Crescent Moon Release!
System UI broadly translated
Prologue and Arcueid route days 1-5 fully translated
Arcueid opening subtitled by Kaleido-Subs
Please note that this patch is not final, and the translation of the first 5 days remains subject to change. If you discover any errors during play, please report them to us so that we can ensure they are fixed.
Warning!
In case you patched the game yourself using the respective emulator's Mod directory, please remove the romfs folder. It might interfere and override changes in this patch.
Install the patch in Ryujinx emulator
Game patches are installed through the "Manage Title Updates" menu: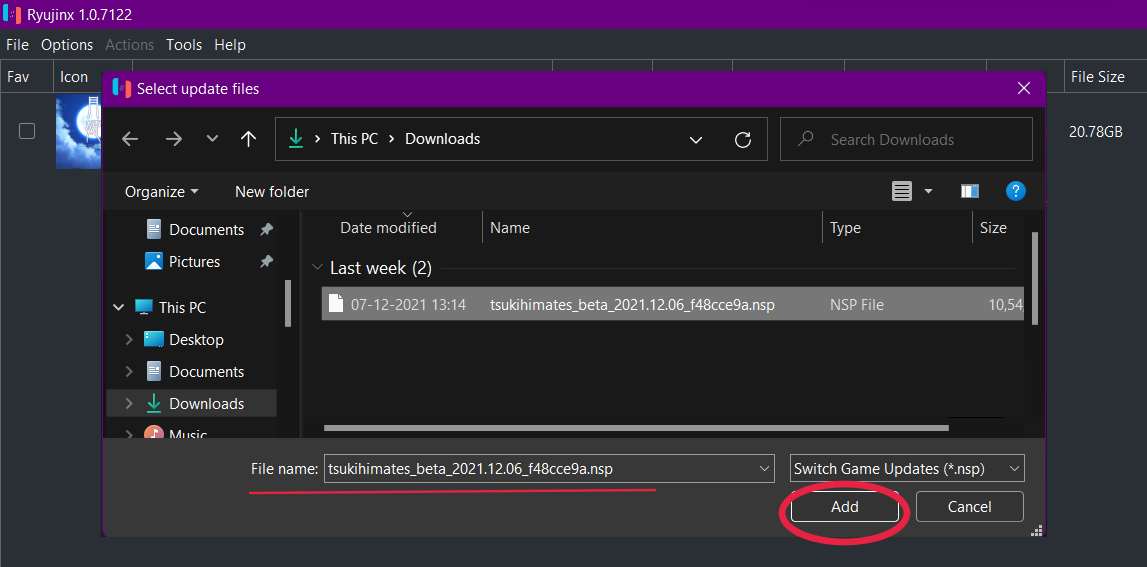 ---
Install the patch in Yuzu emulator
Game patches are installed through the "Install Files to NAND" menu: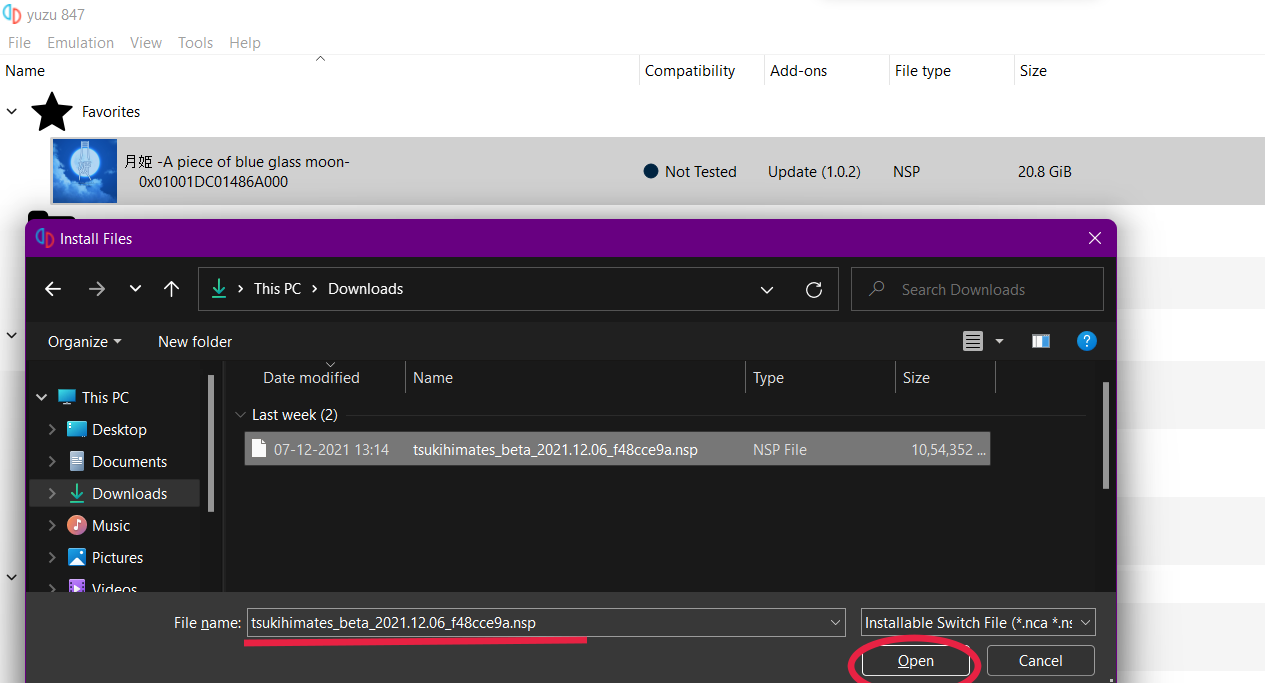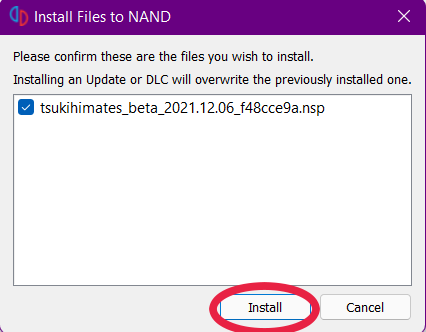 ---
Install the patch in Atmosphere
Warning!
The NSP distributed by Tsukihimates may be installed directly onto a homebrew-capable switch as an update package. However, please note that you install this software on your switch at your own risk. Tsukihimates cannot be held liable for any damage or inconvenience caused by installing unsigned software on a Nintendo product. The end user is responsible for taking any necessary precautions to ensure they do not damage their hardware or receive a ban.

If you are unsure, do not proceed.
To install the patch, you must first have an installed legal copy of the base game, either from the EShop or a physical game cartridge. Once you have done that, copy the NSP patch onto the SD card of your switch using a card reader or homebrew tool capable of USB transfer. Next, using an NSP installer of your choosing, locate the patch and install as you would any other software: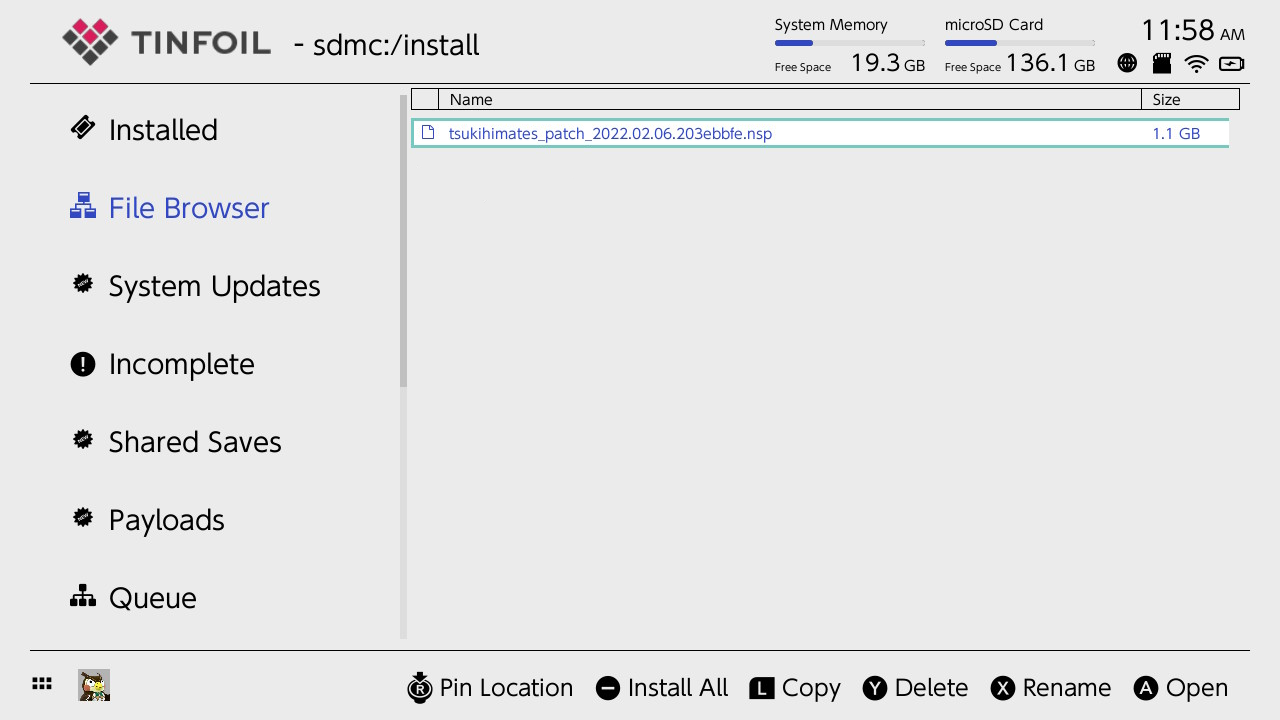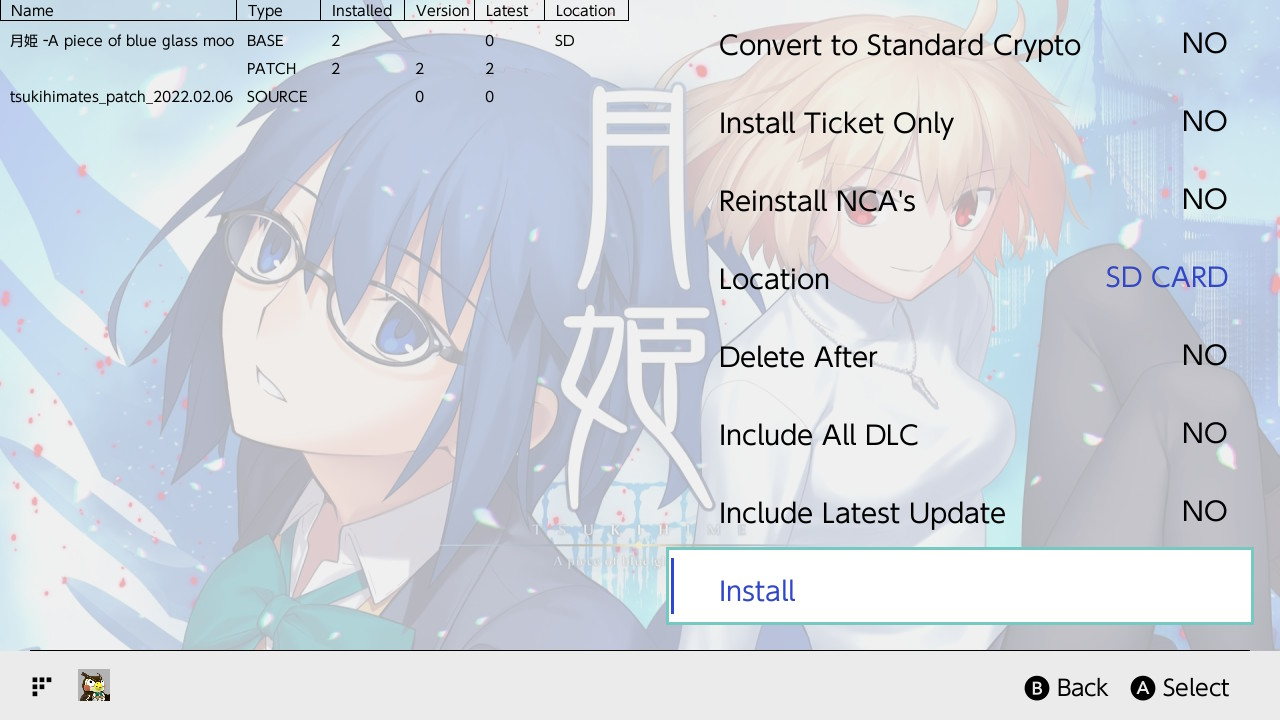 Once the patch has been installed, opening the game should present you with an updated title logo, and the patch version code should be visible in the lower-right corner of the title screen.